Five rules for perfect skin
12 October 2022 | Comment(s) |
Emma Raposo
Raise your hand those of you who have never wished to wake up in the morning with glowing skin, free of spots, wrinkles or pimples! If there was a miracle recipe for a flawless complexion, we'd certainly know about it. In the meantime, here are a few simple things you can do to improve the overall appearance of your skin, whether you're a woman or a man. After all, skin care isn't just for women!
1. Cleanse your skin daily
Cleansing your skin morning and night is the first step of a proper skincare routine. And by cleansing your face, we also mean removing make-up properly. But don't forget that not wearing make-up is no excuse to do without cleansing. All day long, your skin is exposed to countless external aggressions, such as pollution. Cleansing your face thoroughly will remove:
dead cells;
sweat from the day;
other secretions such as sebum.
If you have dry or sensitive skin, choose a gentle cleanser. If you have oily skin, you can use a stronger cleanser. In any case, be gentle when cleansing your face, and try not to rub it frantically, but rather massage it to avoid any unnecessary irritation.
2. Don't skimp on moisturising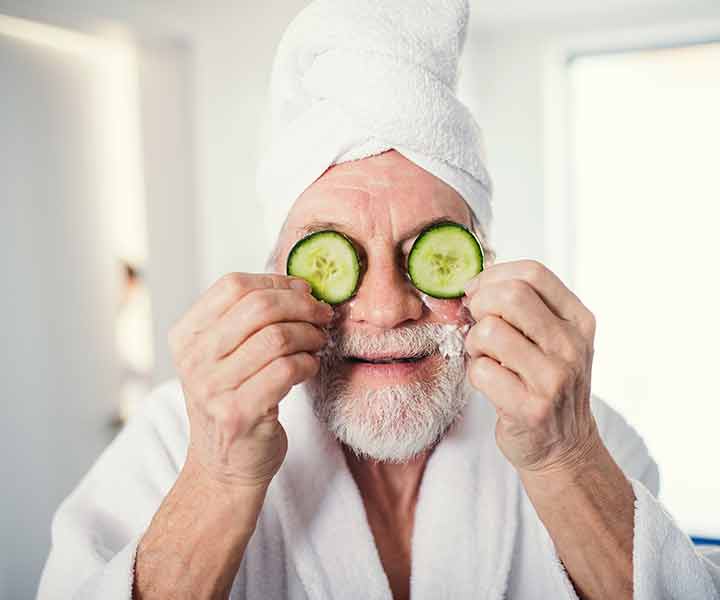 Whether you have dry, oily, combination or sensitive skin, every skin type requires its own specific care. But there's one step that no one can do without: moisturising. Despite popular belief, even oily skin can become dehydrated. Moisturising your skin morning and night helps to:
improve radiance;
maintain elasticity;
slow down the effects of ageing.
Dry skin will prefer richer creams containing not just humectants such as glycerine and hyaluronic acid, but also emollients such as ceramides and squalene, and occlusives such as Vaseline. Oily skin, on the other hand, prefers light products with a predominance of humectants. Do not forget to apply also to the neck and cleavage, which are also areas of the body that need to be well moisturised.

At the start of the cold season, when the skin is at risk of drying out, don't hesitate to focus on hydration by using moisturising night masks and richer creams. And because hydration comes first and foremost from within, remember to drink enough water, from 1.5 to 2 litres a day.
3. Use specific skin care products
In our efforts to achieve the complexion of our dreams, we all want to improve certain aspects of our skin as a matter of priority. Pimples, hyperpigmentation and a dull complexion are just some of the skin problems we can encounter. To address these concerns in a more targeted way, it's possible to add more concentrated skincare products to your daily routine. There are a host of serums that can be applied before your moisturiser to improve a specific skin problem. From serums containing vitamin C, which are the best antioxidants to combat the signs of ageing, to products that boost hydration, such as hyaluronic acid serums, cosmetic solutions exist for every problem.
4. Protect yourself from the sun and premature ageing
In Switzerland, there are no fewer than 3,000 cases of melanoma every year. Of these 3,000 cases, a quarter occur in people aged under 50 at the time of diagnosis. The main cause of this type of cancer is heavy exposure to the sun's ultraviolet rays.

While putting on sun cream at the beach or on the ski slopes has become a must, far too few people apply sun protection the rest of the year. Ultraviolet rays don't wait for seaside holidays to strike, even on rainy days. As the last step in your morning skincare routine 365 days a year, sun cream is the best way to protect your skin and, at the same time, slow down the signs of ageing.
5. Remember to exfoliate your skin
Exfoliation helps to renew cells and get rid of dead cells for a more radiant complexion. We're all familiar with so-called mechanical exfoliation, which mainly involves applying a product with grains and massaging the face. But this is a potentially irritating method to which we prefer chemical exfoliation. Behind this rather barbaric name lies a gentler exfoliation technique for the face. It involves applying natural acids such as glycolic, lactic or salicylic acid to the skin, once or several times a week, depending on the skin type, tolerance to the chosen product and its strength.

While there's no such thing as a miracle skincare routine, because there are so many different skin types and reactions to cosmetic products, these five steps applied on a daily basis will help you achieve a more radiant complexion and cope with the cold season in the best possible conditions. Go for it!