The beginnings of a new treatment for endometriosis
24 March 2023 | Comment(s) |
Christelle Travelletti
Slowly but surely, a new start-up created in Basel is developing a potential new treatment for endometriosis in its laboratory. Its founders hope to be able to commercialize, within several years, a non-hormonal treatment that could change the lives of thousands of women suffering from this disease, which affects one to two women out of 10, according to the Swiss association S-Endo. Interview with Valentina Vongrad, one of the co-founders of FimmCyte.
Under-diagnosed for a long time, endometriosis is a chronic gynecological disease in which tissue similar to the endometrium (lining of the uterus) proliferates but grows outside the uterus. It is estimated that 10% to 20% of Swiss women suffer from this disease, but because of the complexity of the disease, it often takes seven to eight years for women to be diagnosed.
The symptoms vary from one person to another but the most common are:
very severe pain during menstruation that cannot be relieved by taking conventional painkillers such as paracetamol;
great fatigue, discomfort;
digestive problems;
urinary problems;
fertility problems (40% of women with endometriosis suffer from infertility);
endometriosis can also be asymptomatic.
A disabling disease with ineffective treatments
For most women suffering from endometriosis, the pain they feel during their periods, several days a month, is comparable to the pain experienced by cancer patients. Often, they have to stay at home in bed, which is difficult to manage along with their professional, social or sports life. The disease also makes it much more difficult for these women to become pregnant and they are likely to suffer from serious fertility problems. Endometriosis also has an impact on the mental health of these women because it is difficult for them to lead a normal life.

Today, these women have only two solutions: to follow a hormonal treatment which can be ineffective or very painful because of the side effects, or to undergo surgery, either by laparoscopy to remove the diseased tissue of the endometrium (but with a 50% chance of recurrence of the disease) or to undergo a hysterectomy to have the uterus removed.

This is why FimmCyte, a Swiss start-up established in Basel with a research laboratory in Zurich, is currently working on a new treatment.
1) Groupe Mutuel: When and how was FimmCyte born?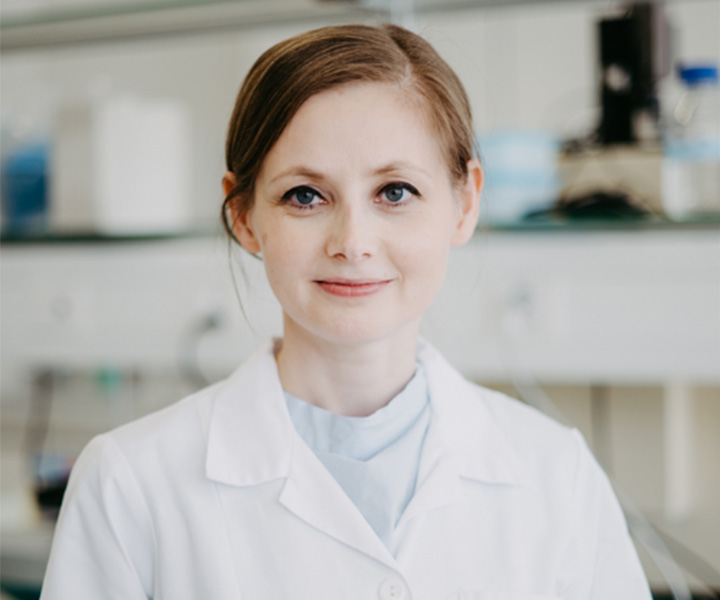 Valentina Vongrad: When we began our project with Professor Brigitte Leeners, Head of the Department of Reproductive Endocrinology at the University Hospital of Zurich in September 2020, our main objective was to develop a new treatment that was non-hormonal and disease modifying.

FimmCyte, our start-up, came to fruition in January 2022.
2) Why are you particularly interested in endometriosis?
The co-founder of FimmCyte Mohaned Shilaih and I have prior experience in women's health from our earlier projects, and the topic of endometriosis has been of significant interest to us. It is disheartening to observe that only a handful of treatment options exist for a condition that affects 1 in 10 women. The agony endured by these women is unbearable, and we have witnessed the suffering of our friends and family members who have been affected. This is what drives us to embark on this journey.
3) Tell us what innovation you are working on at FimmCyte?
Immunotherapy is at the core of our approach, wherein we leverage the patient's immune system to combat endometriosis. What sets our treatment apart is its endometriosis-specificity and non-hormonal nature, a first of its kind. Our research suggests that the treatment can eliminate ectopic tissue without resorting to surgery.
4) So your invention could drastically change the lives of women with endometriosis…
We believe that our treatment has the potential to spare patients from undergoing surgical procedures, or in extreme cases, even a hysterectomy. Some women have to undergo over six surgeries within a short span to alleviate their pain, yet approximately 50% of such cases still observe recurrences. Even the removal of the uterus does not guarantee full recovery, and around 30% of cases still report recurrence. And it remains a difficult choice to make even for those who do not wish to have children.
5) How far along are you in your research and what do you need to develop and market this new treatment?
Acquiring funding is our foremost priority at present to facilitate the clinical trial of our treatment and work towards its eventual commercialization. We aspire to launch the initial clinical trials in the next few years and as with all treatments it takes 8-10 years to bring to patients. Developing innovative treatments of this nature is a time-intensive and expensive process. We have strong faith in our work and are determined to turn this treatment into a reality.
6) You participated in our start-up accelerator Tech4Eva last year, what did it bring you?
Participating in the program was an incredibly positive experience as we connected with other start-ups who were also encountering similar developmental challenges. We received invaluable advice and acquired knowledge on building a thriving business. Tech4Eva provided us with the opportunity to gain visibility among investors in the industry and enhanced our exposure.